Organic, Conventional,
Vegan & Plant-based Rice Pastas
8 oz Rice Pasta Spaghetti/ Fettucini/ Spirals
1/2 cup Chopped fresh basil (2 tsp - 10 ml - dried)
5 pieces Sun-dried tomatoes
1 can Artichoke hearts, chopped
1 1/2 tsp Crushed garlic
3 tbsp Olive oil
1/2 Red bell pepper, sliced
1 Small onion, chopped
​
1. Cook rice pasta in boiling water according to package instructions, rinse with cold water. Drain & set aside.
2. Pour boiling water over sun-dried tomatoes. Let soak for 15 minutes. Drain, then chop.
3. Put olive oil in sauce pan. Cook fresh garlic, onion & bell pepper until onion is soft. Turn to medium heat, put in artichoke hearts, sun-dried tomatoes. Cook for 2 minutes. Stir in rice pasta. Put in sweat basil and touch of salt & pepper. Dish up & serve.
Eggplant, Tomato & Feta cheese pasta
10 oz Rice Pasta Penne/ Elbows/ Fusilli/ Shells/ Spirals
2 Medium Tomatoes, diced
7 oz Feta cheese, chopped
2 tsp Balsamic Vinegar
1 tsp Dried oregano leaves
3 tbsp Olive oil
2 oz Black olives, pitted
3 tsp Brown sugar
1 Onion, finely chopped
2 tsp Dried sweet basil
1 Eggplant, chopped
2 cloves Garlic, crushed
Pinch of salt
​
1. Cook rice pasta in boiling water according to package instructions. Rinse with cold water, drain and set aside.
2. Sprinkle salt on chopped eggplant & leave for 30 minutes. Then rinse eggplant with cold water & drain well.
3. Heat oil in pan, add eggplant, onion & garlic; cook and stir until vegetable is soft. Add diced tomato, balsamic vinegar, brown sugar, touch of salt, oregano & basil and bring to boil. Simmer uncovered until slightly thickened. 4. When warm, add rice pasta, olives & cheese.
5. Enjoy!
Pesto (Parsley, Dill & Basil Leaves)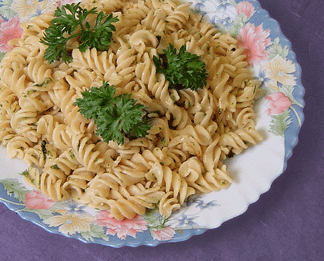 8 oz Rice Pasta Spaghetti/ Fettucini/ Spirals/ Elbows
2/3 cup Fresh parsley leaves, press dry with towel
1 cup Basil leaves, press dry with towel
1/3 cup Fresh dill, press dry with towel
1/3 cup Chicken stock/ vegetable stock
3 tbsp Grated Parmesan cheese
2 tbsp Toasted pine nuts (optional)
2 tsp Crushed garlic
3 tbsp Olives oil
​
1. Cook rice pasta in boiling water according to package instructions. Drain with cold water and place in serving bowl.
2. In food processor, puree parsley, basil & dill leaves, oil, stock, cheese & garlic until well mixed, about 30 seconds. Mix with pasta. Sprinkle with pine nuts and toss.
Jumbo Shells with Seafood and Cheese Sauce
24-30 Jumbo Shells
The cheese sauce
1/4 cup Butter
2 Egg yolks
1/2 cup Potato starch flour
1-3/4 cups Skim milk
1/2 cup Freshly grated Parmesan cheese
For the seafood
1 tbsp Olive oil
400g Can tuna, drained and flaked
400g Can salmon, drained and flaked
½ cup Baby mushroom, diced
1 Small onion, diced
1 Small carrot, diced
1 Small zucchini, diced
2 cans Dice tomatoes, drained
​
1. Preheat oven to 350 degrees F.
2. Cook pasta according to package directions and then set aside.
3. Meanwhile, to make the cheese sauce, melt the butter in a small saucepan, then over low heat, stir in flour with a 1-3/4 cups of skim milk and simmer until sauce is creamy and thickened, take it off the stove and let cool for 5 minutes. Slowly mix in the egg yolks and Parmesan cheese.
4. Next, prepare the seafood mixture.
5. Heat the oil in saucepan and add onion, stirring occasionally and cook until soft.
6. Add the carrot, zucchini and mushrooms cook for 5 minutes until vegetables are soft.
7. Add tomatoes and simmer for about 5 minutes for until sauce thickened.
8. Mix the vegetable mixture with tuna and salmon in bowl until incorporated.
9. Gently spoon mixture into cooked shells.
10. Spray the bottom of a 9 x 13 casserole dish with cooking spray, place stuffed shells in dish in a single layer slightly apart from each other.
11. Spoon the cheese sauce over the shell. Place into oven and broil for 5 minute or until sauce turns golden brown. Sprinkle basil leaves and black pepper as desired.
12. Enjoy!
Made yesterday and frozen.
​
Thaw in the fridge overnight
For weekend dinner with buddy….no need for dinner prep then!
9-12 Lasagna Noodles
6 Cloves garlic chopped
1 Medium size onion diced
1 Medium size zucchini diced
1 pack 8oz baby spinach diced
2 pack Firm tofu
2 tbsp Lemon juice
2 tbsp Corn starch
½ cup Oat milk, or any other plant milk of choice
1.5L Pasta sauce
1 tsp Dried basil
1 tsp Italian seasoning
Salt and pepper to taste
1 package Vegan cheese (Optional)
​
​
1. Preheat the oven to 350ºF
2. Heat the pasta sauce in a sauce pan, add the Italian seasoning and dried basil, salt and pepper, and let it simmer for 10 minutes.
3. In a large skillet, add the olive oil, garlic and onion and stir fry until fragrant.
4. Add zucchini and mushroom and stir fry until soft, lastly add spinach and stir fry until cooked. Set aside.
5. In a food processor, add the tofu, lemon juice, oat milk, salt and corn starch, pulse until smooth.
6. In a 9x13 casserole dish, add a layer of sauce to the bottom. Put 3 pieces of dry lasagna sheet in a single layer, then spread a layer of tofu mixture, and then add the vegetable evenly on top, lastly ladle the sauce over the top. Make sure all pasta sheets are coated with sauce.
7. Repeat the procedure until pasta is all used up.
8. Sprinkle vegan cheese on top (Optional)
9. Cover the casserole dish with tin foil and bake for 45 minutes.
10. After 45 minutes are up, remove the tin foil and bake for another 15 minutes on 500ºF.
11. Remove the lasagna from the oven and let it sit for 15 minutes before serving.
12. Enjoy!